Each one of us must make his own path through life. There are no self-help manuals, no formulas, and no easy answers. The right road for one is the wrong road for another…The journey of life is not paved in blacktop; it is not brightly lit, and it has no road signs. It is a rocky path through the wilderness.

–Scott Peck
The Road Less traveled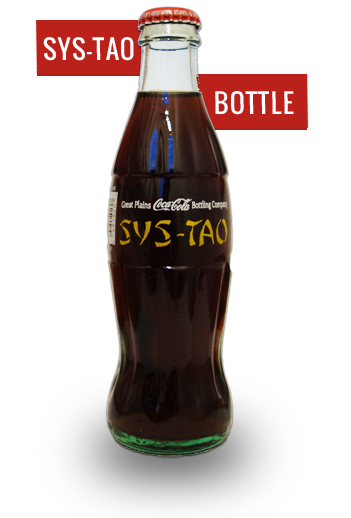 Sys-Tao is an acronym, "Staple yourself to an order," which symbolically takes you along a path towards understanding how things work throughout an entire organization. Allowing yourself to go with this flow is the first step and a necessary condition to understanding both what is and what could be. It is a creative journey that reveals the principles that underpin our beliefs. Every organization is unique; Sys-Tao shows us the way along our own "road less traveled."
Sys-Tao Bottle is symbolic of the leadership philosophy associated with Great Plains.  The bottle was never sold to the commercial market. Instead, it was handed out to the attendees of Great Plains' weekly "Sys-Tao Meetings," where this emerging leadership philosophy was reenacted for more than a dozen years.
As Great Plains' reputation grew, bottlers from all over the world began to request invitations to these meetings. At last count, representatives from well over 100 bottling operations, and from more than 25 countries, had visited the company to participate in the Sys-Tao Meetings.
As a result, these rare and symbolic bottles became more and more valuable. Just Google: "eBay Sys-Tao," and you'll see for yourself. The Sys-Tao meetings were discontinued in 2003, but the Sys-Tao way is a journey that will never end.
A limited supply of the original bottles still exists, and they are available at no charge with proof of purchase of the book (shipping costs will apply). Please contact us at bottle@sys-tao.org.